(source)
I thought it would be fun to take notes and pictures throughout a day and share it with you. This is pretty much what my typical day looks like <3 Tell me about your day in the comments. I wanna know every Soldier in our Army <3 Here we go:
12.00 – Waking up. Without getting out of bed, checking twitter, checking emails
1 PM – Making a smoothie, getting dressed

2 PM – Need to get some coffee and blue hair color so going on hollywood boulevard to get some shopping in. Also picking up discount gloves from Claires and some stuff I need want from forever 21. Also, checking mail to see that I've gotten this bubblegoth necklace I ordered last week. So cute <3
3 PM – turning sky blue + working on these white pvc+lace stocking/legwarmers thingies I started last night. Takes time but they're kinda awesome. I like making my stuff. No one else can get it from a store or from a designer.

5 PM – Vespertine comes over. Getting more coffee and some sushi. Been dying to rock some white lips so also going to ulta to get whatever I need. Vespertine says I look like a crackhead which kinda makes me reconsider the whole look for the show. I will be super lolita white army commander tonight. <3 We're also customizing a face mask for Vespertine. Putting some charms and safety pins on it. Tip: never spray paint a face mask. It's designed to repel paint so now I have chips all over my carpet. Not that it's the only messy thing there. I can't keep it clean cause I'm always making something and then instead of cleaning it up, I need to make something else. All I want for christmas next year is a maid. A hot japanese anime character looking maid.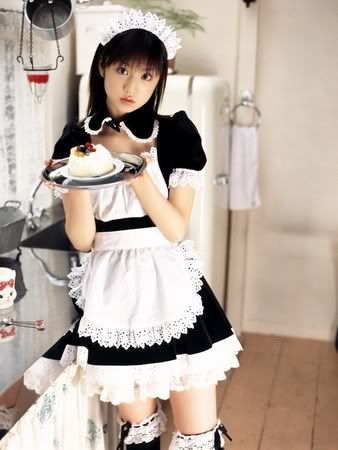 7 PM – getting picked up, starting a drive to House of Blues in Downtown Disney. In the car, there's a package from Iron fist waiting for me. In LOVE with the stuff they sent. Already rocking this bag. So BubbleGoth! Even my cat Trouble is into it!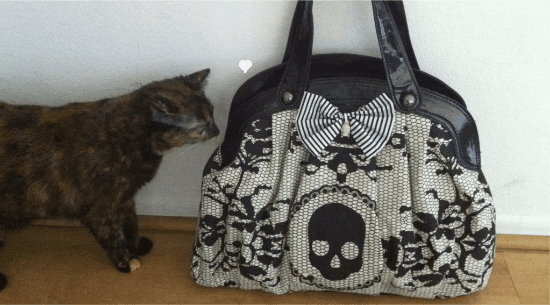 9 PM – soundcheck.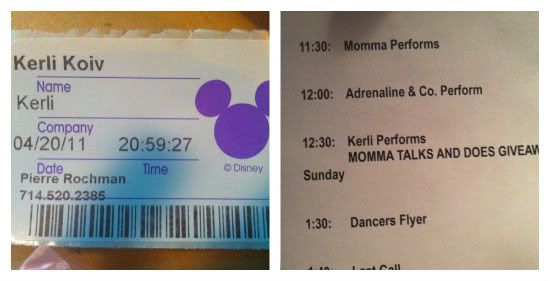 10 PM – I realize I'm wearing a very small tutu and have forgotten to take any white shorts to cover up my a$$. Running around downtown Disney to find some. Can't find any but I do find white leggings in wet seal for 7 bucks. I'm thinking I'll just cut the legs off and it'll be fine
11 PM – Hair, make up, warm up, sewing some stuff still, making final touches on my outfit since I didn't have enough time to finish it in my house. I keep my life together with a needle and a thread and sometimes E6000. If people only knew…lol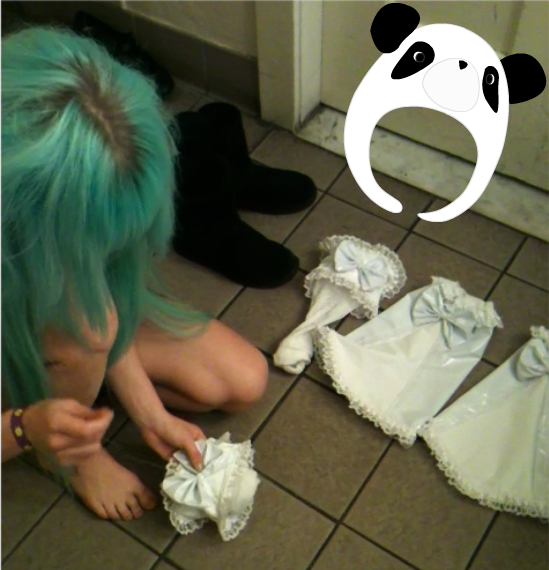 12.30 AM – Performance. So much fun. So many fans singing along, knowing the lyrics. Dope. Some people are getting in a fight while I'm singing army of love. That's kinda embarrassing. Violence is never the answer. Our Army shoots bullets of love and drops bombs of fairydust <3 I grabbed some go go dancers during the performance to have fun with me. It WAS a gay event after all.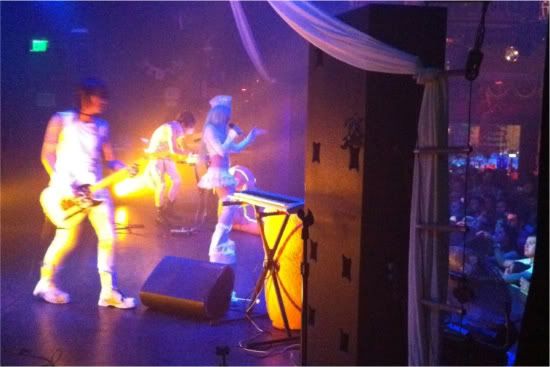 1 AM – Hanging out/taking pictures with cool peeps. Handing out some I-Loo stickers. Celebrating the night with a rum&coke and Mama, who's the host. It's her Birthday today so we sang Happy Birthday from stage. She's freaking awesome and cool enough to share her dressing room with me. True Diva. Very Gracious. <3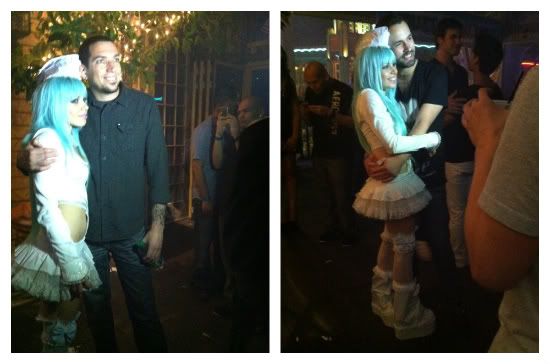 2 AM – Leaving the venue. Someone says they like my bag so I put all my shit in a plastic bag and give it to them. I really believe that energy needs to be in constant circulation and it kinda trains u to be more detached from things in general if u give them away from time to time. There was this one tech guy there who's nickname was God. Amazing.
3AM – getting home
5 AM – Going to bed. Today has been inspiring. Thank You World. <3
I.L.U k