What IS The Deal With Green Juice?
Let me guess…. Just about everyone you know is talking about Green Juice, hashtaging #cleaneating, drinking protein powders, and taking supplements… and yet, you're annoyed and just want some cookies.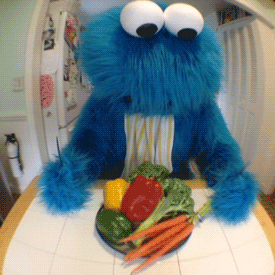 WHAT is this obsession and WHY is everyone gulping down green stuff like it's the fountain of youth? Well, in a way, it is. Real green juice is raw, whole, and never heated or modified. It contains ample servings of vegetables, fruits, vitamins and minerals that your body needs daily, and has been shown to help clear skin problems, improve digestion, ecourage weightloss, restore energy (that LASTS) and even fights diseases! With most of us having to budget with our groceries and having no time to cook, we look for food that's fast, convenient, and cheap. We're buying food that contains almost NO natural ingredients, vitamins or minerals, causing ourselves to become deficient and sick. These same cheap foods also contain harsh chemicals and ingredients that shouldn't be acceptible for human consumption, and some are actually found in rubber mats. We've started eating food that basically isn't even food anymore. And let's be honest… pizza is great. Pizza is LIFE. You can still have it, but don't cheat yourself of the good stuff your body NEEDS.
So, you keep seeing your favorite celebrities and idols constantly carrying around bottles full of green juice. You want that glowing skin and endless energy that they have… but you just CAN'T DO IT. You tried this famous neon sludge and the memory still haunts you.
That's okay. Some of us don't have the time, money, or tastebuds to juice every single day. Never fear. There are TONS of other ways to get your daily greens, vitamins, and minerals in without having to gulp down that scary green stuff (though, personally I absolutely LOVE Green Juice….).
Meet Garden Of Life.
Garden of Life is an amazing company, creating the most nutritionally dense, amazingly tasting, easy to use protein powers, vitamins, supplements, and alternatives to green juicing. Every Garden of Life product is 100% Natural, Raw, Organic, Chemical-free, Non-GMO, and almost all of the products are Vegan, Soy-free, and Gluten-free. I used to HATE using protein powders and supplements because of the chalkiness and horrible taste. I would also get crazy stomach aches and actually double-over in pain after drinking them. Finally, I realized it was because I was buying cheap protein powders and supplements that contained synthetic ingredients and chemicals that I couldn't even pronounce. Once I switched to Garden Of Life, I realized I could LOVE these things. I even pack a separate bag for tour full of my Garden Of Life stash. Some of my favorite products are their Raw Chocolate Perfect Food (Amaingly tasting Chocolate alernative to green juices!), Raw Chocolate and Vanilla Protein Powders, their Raw One Multi-Vitamin, Wild Rose Herbal D-Tox, and so many more.
(Photo courtesy of Run Organic.)
(Pictures courtesy of Chickadee Says blog.)
Their products rage from Raw Multivitamins, to Cleanses and Detoxes, Raw Meal/Protein/Superfood Powders, Organic Seeds, Whole Food Bars, and even healthy 100% natural weight loss supplements.
Basically, their products make you feel like this (in the best way):
You can find most Garden Of Life products at your nearest Whole Foods, local natural markets, or simply order online here. Try them out and let me know what you think!
Xo Mindy