REVIEW: Fall Out Boy – 'Save Rock and Roll'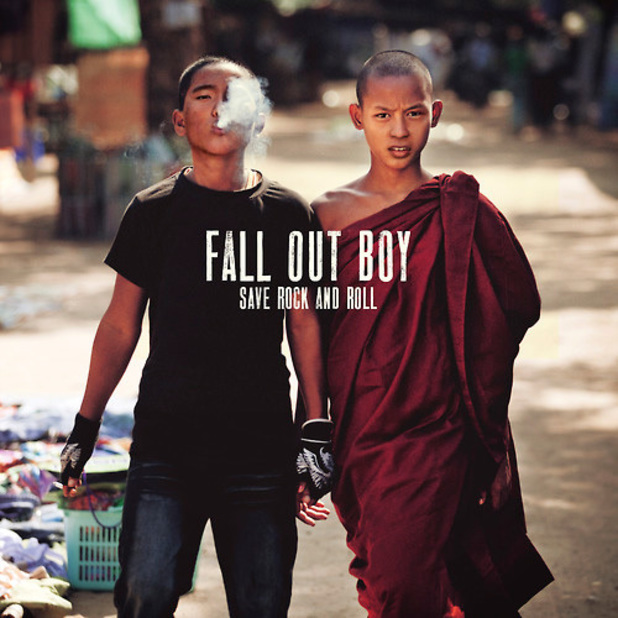 'Save Rock and Roll' hasn't been released yet but there's already an abundance of reviews – from journalists and fans, in-print and online. With a controversial title, albeit one intended ironically, the critical debate doesn't look set to wane anytime soon. In fact, "This has been said so many times that I'm not sure if it matters" but if you can handle reading another, here goes.
One of the most surprising elements of 'Save Rock and Roll' is its lack of surprise. This album is undoubtedly different from the Fall Out Boy we knew pre-hiatus, but there's a disappointing lack of variation between the 11 tracks themselves. Although the three songs premiered as teasers ('My Songs Know What You Did In The Dark', 'The Phoenix', 'Young Volcanoes') were all distinctly different from each other, 'Save Rock and Roll' doesn't push the boundaries any further. With cameos from Courtney Love, Big Sean, Foxes and Elton John, this album could have been daringly experimental and eclectic but it halts its ambition before creating a masterpiece.
Although the album is a brave and bold effort for Fall Out Boy, as a rock band, it's still a safe bet commercially. There are times when 'Save Rock and Roll' plays like a pastiche of today's popular music. The opening to 'The Phoenix' is an immediate reminder of Plan B's 'Ill Manors' and the Foxes duet 'Just One Yesterday', which is otherwise faultless, begins by sounding like a cover of Adele's 'Rolling In The Deep'. There are less obvious pop homages too as even the embrace of electric guitars in 'Death Valley' doesn't stop it sounding like a punk David Guetta, and the stripped-back nature of 'Young Volcanoes' plays on the popularity of acoustic singer-songwriters such as Ed Sheeran.
However to accuse Fall Out Boy of 'selling out' would not only be wrong, but deeply unfair. This was the album that Fall Out Boy wanted to make – and they made it. Recorded in secret, 'Save Rock and Roll' wasn't a product of pressure from the industry. This is a real and raw album, even though it doesn't sound like one. Normally when a band step away from the spotlight to do something different, we expect their return to be shocking, polarising and frankly, a little bit weird. 'Save Rock and Roll' is none of those things, but that's ok – even if it will disappoint some.
'Save Rock and Roll' still remains uniquely Fall Out Boy – even though it sounds predominantly Patrick Stump. Although the collaborative process behind the album saw guitarist Joe Trohman contribute to the song-writing, his metal influence is surprisingly absent. Some may have expected Trohman and drummer Andy Hurley's time in The Damned Things to be reflected 2013's Fall Out Boy, but their rock roots are not even referenced. However, the solo work of Patrick Stump, and Pete Wentz's dance side project Black Cards have clearly had an influence – conscious or otherwise. Several songs, such as 'Miss Missing You' and 'Alone Together', feel like they were meant for Stump's follow-up to 'Soul Punk' but that's not necessarily a bad thing.
'Save Rock and Roll' may not be the genre-defying Fall Out Boy-defining album that it could have been –but it's still good. For an album so short, it's still guilty of a couple of fillers – although which songs are the weakest is still debatable. The only unanimous opinion from fans and critics alike is that Stump's voice is better than ever. Even when coupled with Elton John on the title track, Stump still impresses. 'Save Rock and Roll', as a song, is an epic ballad which will long be considered one of Fall Out Boy's best songs, regardless of how many more albums they make. The album is book-ended brilliantly by 'The Phoenix' and 'Save Rock and Roll', and there are several more instances of beauty but there are also less memorable moments.
'Save Rock and Roll' won't be hated by Fall Out Boy fans, but it might not be loved at first listen either. It takes longer to 'click' because it's different, but perhaps it's not different enough. However, if this is just the beginning of a new era of Fall Out Boy, it's a very exciting introduction.
What do you think of 'Save Rock and Roll'?