So This Is A Thing: Happy National Bubble Gum Day!
If you didn't know that today was National Bubble Gum Day, don't worry, you weren't the only one. Being the great dispenser of information that no one really cares about has it's advantages. This is the part where you say "Rich, what are those advantages?"
Well, here they are below. I got to look at all of these gum smacking famous type people being all cute and stuff. Are you ready for a post that's so sweet you're going to get a cavity? Probably not. The good thing about this post is that you can go to bed with it next to you and not have to cut a lump out of your hair if you roll onto it.
Vanessa Hudgens giving us some Candie's model realness
Non Suit & Tie Justin Timberlake
Nicki Minaj doing that thing with her face that makes her not look like a real person.
Look it's Katy Perry not trivializing anyone's sexuality!
Remember when Britney Spears did that? She can do NO WRONG. Hi Brit Brit!
Yup. Bey + Blingee art = BAHMAZING
Frenchie! Do any of you know Frenchie? I just dated myself.
The Beebs when he was 16, so that was what, last week?
Is it too soon to put Selena Gomez and Justin Bieber in a list next to each other?
Hilary Duff – Hi Boo
Mark Salling – No wait, HAY BOO
Ariana Grande – This is so Tumblr it hurts. It just needs an inspirational song lyric on it.
om nom nom Miley
and finally, because I want to give you nightmares, please enjoy this gif of someone that looks like they're wearing someone else's face: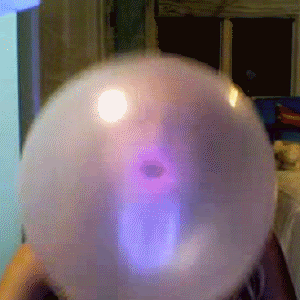 Happy National Bubble Gum Day!