Serenity Water Lily 8×10 Print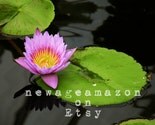 $15.00A peaceful water lily floats in the water at Phipps Conservatory in Pittsburgh. Take a second to breath deep and relax.
Original photo print by Ashly Nagrant/New Age Amazon is signed and dated by the artist on the back of the photo. Print will arrive WITHOUT watermark.
Imported from Etsy Shop for newageamazon