Exclusive Interview: Welcome Back Sailors+ New Track:…
Exclusive Interview: Welcome Back Sailors+ New Track: "HERO"
Italy is responsible for some fine things, but none of those things are currently finer than the chill-pop sexiness of Welcome Back Sailors.Their cavernous tunes are cemented in R&B vocal lines that push what would be an "amazing" band into the "obsession" category.From mellow mornings in bed with yr squeeze, to tiki-torch backyard flickerings, WBS has got those moments covered.
The above song, "Hero", is off of their upcoming debut full-length Yes/Sun, which is available now on vinyl format thru We Were Never Being Boring Collective.
We were lucky enough to snag some of their time to discus sounds, friends, languages, and tool grinding.
[Glo-Fi Must Die / Welcome Back Sailors]
What is your gear setup like? Who plays what and which pedals/units are the WBS jam?
WBS is a band composed of two people, Alessio and Danilo. I (Alessio) play the bass, drum pad, keyboard & synth. Danilo is vocals, synth, Kaosillator, drum programming, sp-555. These are roughly the tools we use to create our sound. Through our composition phases, we sometimes swap instruments too (apart from the voice…!). When we play live, we are set one in front of the other.
What are some other projects you are in? Do you have any friend bands or artists you want to hype?
So far, we spend all our energies for WBS. The bands we feel very close to at the moment are A Classic Education, Be Forest, Casa del Mirto, Young Wrists and Death in Plains.
How does singing in English vs. Italian change the way you sing/thing about your music? Have you ever thought about creating versions of your songs in Italian like Beyonce did with "Irreplaceable (Spanish Version)"? Or maybe one of your new songs could be in Italian..
I can definitely tell you that you'll never hear WBS singing in Italian. At least not one of our original songs.We find that the cadence of our own language doesn't go well with our sound. We always considered the vocals and the language in which our lyrics are written as a complement to the creative process of composition. We always start from a very specific vocal line, around which we build the music and everything, and that has always been something closer to English, rather than to Italian!
Do you think your sound will ever change or would you start side projects to attack different genres/sounds?
Me and Danilo have been playing in the same bands for ages, and we share the same passion for the same kind of music. After being part of different projects, experimenting with different musical genres, I think that from now on anything we do will be recognized as "ours" (ex. the remix we did for A Classic Education, "Gone To Sea"). Having said that, I didn't mean our sound will be the same forever, I can't say anything too final about that now, but I think that as long as we'll be lucky enough to play together, anyone will be able to know it's us. If we ever consider to approach different genres, I think that would be part of a different project.
What's a rad city in Italy that us Americans usually don't visit?
mmmm….I'd say Padova. A delicious city!
Are there any WBS songs you haven't released and why? When can we hear them if ever?
Of course there are tracks we still haven't published. Some of them will come out with our next releases, some are still demos we composed a couple of years ago, and probably they won't ever be listened by anyone… maybe…?!
Do you have day jobs? What are they?
I'm a graphic designer; I work with videos, photo shoots and paintings. Danilo is the manager of his own company (a tool grinding factory).
If WBS were a movie in your Netfl­ix queue, what would it be?
It would definitely be a super 8 documentary filmed on the most gorgeous surfing beaches in the world.
***********
Follow these sharp lads on their Facebook page.
Pick up Welcome Back Sailors debut LP Yes/Sun at We Were Never Being Boring Collective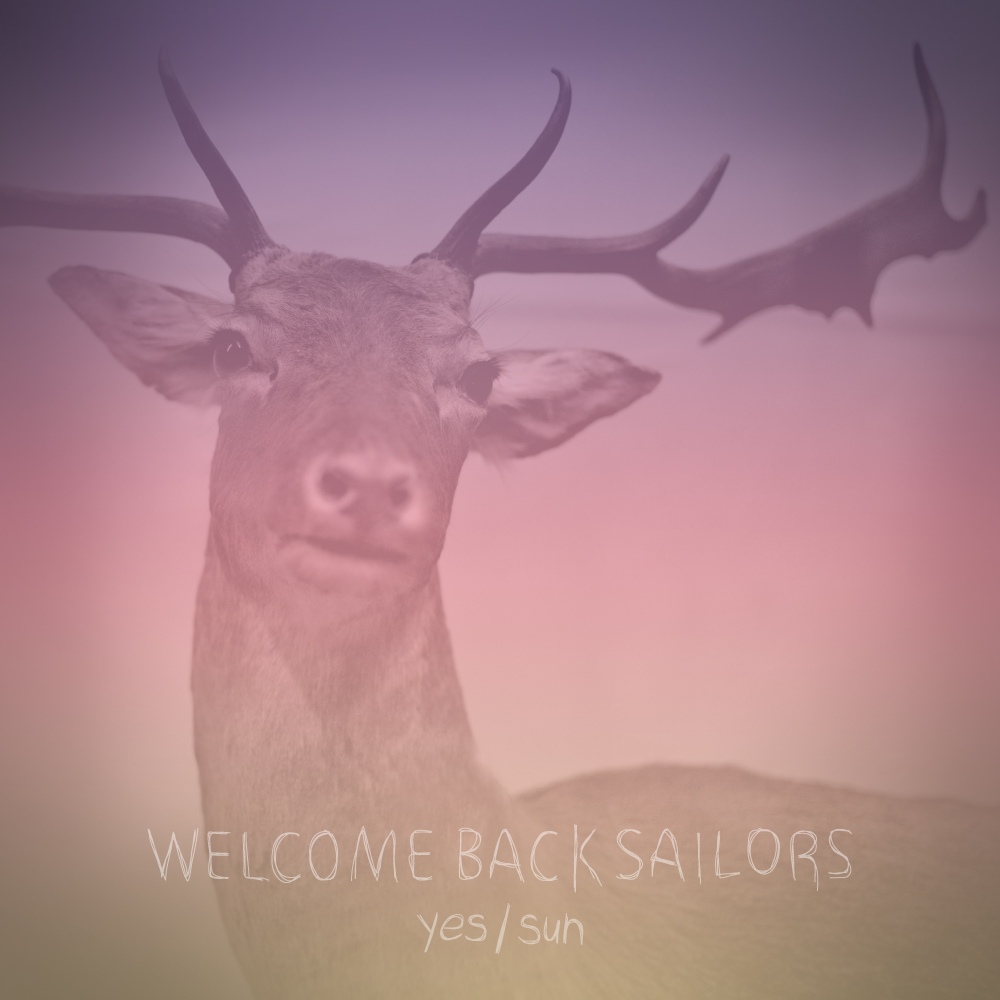 Imported from Glo-Fi Must Die