Synthetic Dreads Tutorial Blog… by Kerli
Kerli shows us how to get your Bubblegoth hair to the next level. Read this awesome tutorial to find out how to get hair just like Kerli's!
I've been making some new dreads all morning and since it's such a fun and easy way to get your BubbleGoth on, I thought I'd show u how to make them as well.
YOU NEED:
– Synthetic hair (costs about $2.50 a pack). You can get cute falls out of 2 packs. If you want big hair, get 4.– Something hot to seal the dreads.– A ribbon, a scarf, a cloth… something long and stringy that you're not precious about.
STEP 1:
All synthetic hair comes in a similar kind of package. You take it out and it's usually tied to the package with a little plastic hairband. I normally like really long dreads so I won't cut anything. Just take a piece of hair and fold it the way it's needed. If u want shorter dreads, u can cut it in the middle. You kinda have to make a few to figure how long of a dread a certain piece of hair is going to be.
These dreads I'm making right now, are gonna be kinda short, so I cut the length of the hair in half. Right where the hair attaches to the package.
STEP 2:
There are different ways to create dreads. To me, the easiest ones are the ones with a simple loop. I use a string (or anything that serves the purpose) and just tie it to the legs of a chair. u can come up with your own creative solutions too.Get your McGyver on:P
Then I take the hair, fold it in half and tie a knot around the string.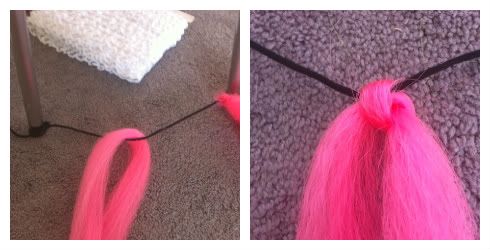 STEP 3: BACKCOMBING
TEASE AWAY!!!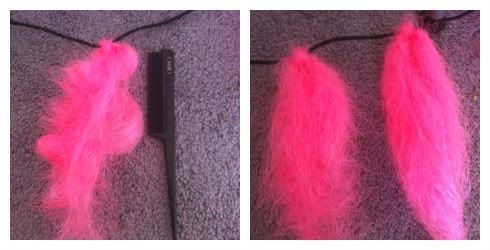 STEP 4: TWISTING AND SEALING
Now just twist them until they start looking like the dreads you wanna have.You need hot something to seal them. I use a steamer. Got it from Ross for $20 and it's awesome for everything. Some people just carefully hold them over a pot of boiling water and let the steam seal it.Some people cover them with a towel and use a low temperature on an old hair straightener.It needs something hot enough to seal them but too hot will melt them..so…find out which is the best option for you.Please be careful. The steam is hot.If you live with your parents, let them help you and make sure you're safe.

YOU ARE DONE!

Now you can either braid them into your own hair, make hair falls or attach some to a cheap old wig to spice it up.I'll be rocking my Neon pink ones in Miami this weekend:)Bringing BubbleGoth to Winter Music Festival.Taking I-Loo as well!Doesn't she have an awesome life? Will take pictures:)
I.L.U.k