Twilight Fans: FIRST LOOK PHOTOS from Breaking Dawn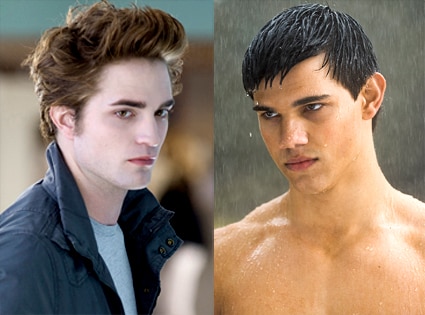 Oh and it is a good one I promise. Do you remember the moment during Twilight when Rob Pattinson first came on camera and everyone in the theater immediately started screaming and cheering?
Remember the first time Taylor Lautner was on camera in New Moon with no shirt on? The rain dripping off his face and amazingly sculpted pectorals, does that ring a bell? If not see above.
ROBERT PATTINSON AT THE 68TH GOLDEN GLOBES
Remember how everyone was freaking out over the kissing scene in Twilight? Or in Eclipse when Bella cheated on Edward? Well there is more of that to come (as you know if you have already read the book). Behold, the first still from Breaking Dawn.
Yes, it was worth the wait but now my fangs are dripping with anticipation for November 18th 2011 when part one of Breaking Dawn hits theaters.