Valary And Michelle DiBenedetto Fans!
A Valary And Michelle DiBenedetto Fansite! Valary Renee DiBenedetto was...
more»
A Valary And Michelle DiBenedetto Fansite!


Valary Renee DiBenedetto was born on the 7th Of April 1982 Along with her twin sister Michelle. She is the fiancee of Avenged Sevenfolds Lead singer M Shadows. They Have Been engaged since April 07.
Valary Is 5"6, weighs 115lbs and Is of Italian Descent. (Height and Weight was taken from her modelling agency the link is..http://www.lamanager.com/portfolios/dibenedeto-valary.htm)
Her mum's name is Debbie DiBenedetto and Her Dad's name is Nick DiBenedetto.
She has a brother called Chris.
Valary used to be the tour manager for Avenged Sevenfold before they signed to major label Warner Bros Records. She can be seen at A7x signings and at the side of the stage whilst A7x are performing.
She got the nickname Screaming Demon Girl for screaming onstage with A7x in the early days. She screamed on their first album 'Sounding The Seventh Trumpet' on the track 'The Art Of Subconscious Illusion' She also screamed again on the latest album 'Avenged Sevenfold' on the track 'Scream'
Valary was also the merch girl whilst on tour with the band.
Val was also in Three Avenged Sevenfold Videos. She has recently made an appearance in A7x's new video for Dear God, along with Pinkly, Matt Berry and others. She is Seen is Warmness of the soul off the bands first album 'Sounding The Seventh Trumpet'. She is the girl who the main girl bumps in to. She is also in Seize the day. She plays the main female role here. She is the blonde pregnant woman who dies in a car crash after visiting Matt In prison. Syn Performs the solo on her coffin as it descends into the ground.
Valary met Matt in 6th grade and has been best friends with him since. Although, they met in 6th grade they didn't start dating for a few years later.
She is also the rev's best friend and Rev said, "Surprised to say, val took care of me, many many years on tour and Is one of my best friends in the world"
Valary and Matt have a dog named Bella who is a golden Retreiver/labrador Im not sure.
Val is now in college for modelling and acting. She has acted in two movies. Sawblade and Erased.
As her role in Sawblade she plays a character called Daria who eventually dies by getting her drumsticks gauged through her eyeballs. As her role in Erased she plays a character called Star.
She plays the main female role in her latest movie called Soiled Love. It is a twisted love story about 2 characters Wade & Caroline(Val) who both have parasites growing inside them. They end up falling in love. Trailers and Behind the scenes are in the videos.
Val has also modelled for Sugar and Rox Rock rebel clothing. She has modelled for her talent portfolio which is under LA Management.
My best wishes go towards her and Matt and I hope they have a happy life together and enjoy their wedding day. She will looks beautiful!




Michelle Louise DiBenedetto was born on the 7th of April alongside her twin Valary. She has a brother called Chris. Her Parents names are Debbie and Nick.
Michelle is the girlfriend of Avenged Sevenfolds Lead guitarist Synyster Gates. They have been together for approximately 3 years now. Michelle is a fashion designer and she designs for Syns Clothing line simply called 'Syn Gates Clothing' She has also designed some of his stage outfits. Although Michelle really loves fashion she has not attended fashion school.
Michelle has an Administrations Degree. She can be seen alongside her twin sister, the band and their girlfriends who are Leana MacFadden, Gena Paulhus and Lacey Franklin on tour and at parties. She is very close to Syns family. She has taken numerous amounts of pictures with Syns parents, grandparents, his brother brent and his girlfriend Dana and Syns cousin Nicole. I personally wish her and Syn the best of luck!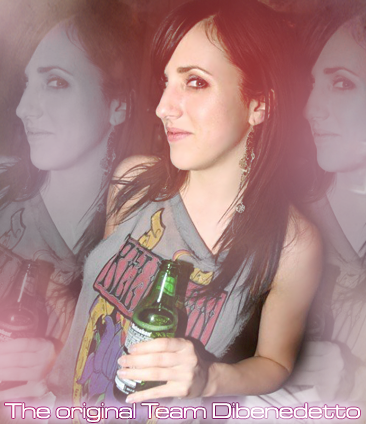 Credit for the banners goes out toTeam DiBenedetto, Kill The Girlfriend haters and Valary Dibenedetto Fansite on Myspace..=D