H.I.M
THIS SITE WILL TRY TO BE UPDATED CONSTANTLY ON LATEST...
more»
THIS SITE WILL TRY TO BE UPDATED CONSTANTLY ON LATEST H.I.M NEWS...
~~~~HIM's New CD "Screamworks: Love In Theory And Practice" is out now!!~~~~~~
A little
H I M
Biography-
HIM is a band from Finland formed in 1991 by vocalist Ville Valo, guitarist Mikko Lindström, and bassist Mikko Paananen. They have released 5 full length albums to date. The band was originally called His Infernal Majesty, but they soon changed this to simply HIM. As of 2006, they are the first and only Finnish rock band to sell Gold in the United States.
HIM started out as a cover band, covering songs of artists such as KISS, Type O Negative, Danzig, Billy Idol, Black Sabbath and Depeche Mode. After many lineup changes and a hiatus from 1991 to 1995 caused by the members' military services, the band now has only 3 co-founding (original) members plus keyboardist Jani "Burton" Puurtinen and drummer Mika "Gas" Karppinen.
The
Heartagram
(as you see below) is the name of a trademarked symbol of HIM. It is a cross between a heart and an inverted pentagram. Valo created the Heartagram himself the day after his 20th birthday. The Heartagram has been falsely associated with satanism, leading some to believe HIM is satanic. Valo has said that "The Heartagram stands for HIM as a band, as an entity, and for 'love metal' in general."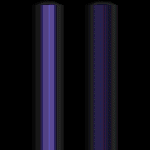 ***Album History***
--1. 666 Ways to Love: Prologue ~~~Released: October 16, 1996
--2. Greatest Love Songs Vol. 666 ~~Released: November 20, 1997
--3. Razorblade Romance ~~~~Released: January 24, 2000
--4. Deep Shadows and Brilliant Highlights ~~~Released: August 27, 2001
--5. Love Metal ~~~Released: April 14, 2003
--6. And Love Said No-The Greatest Hits 1997-2004 ~~~Released: April 14, 2003
--7. Dark Light ~~~ Released: September 26, 2005
--8. Uneasy Listening Vol.1 ~~~Released: October 27, 2006
--9. Uneasy Listening Vol. 2 ~~~ Released: April 20, 2007
--10. Venus Doom ~~~ Released: September 17/18th, 2007
--11.Screamworks: Love In Theory And Practice ~~~Released: February 8th 2010
Background Information-
Origin: Helsinki, Finland
Genre(s): Debated (Love Metal)
Years Active: 1991 – Present
Label(s): Sire Records
*GUIDELINES*
1.
NO FIGHTING
on this group fan page! If you are caught fighting, you will be given up to 3 warnings (one of the administrators will notify you via private message) and then you will be
DELETED
from the group.
2.
Don't upload pictures of anyone other than HIM.
If you want to post band member's girlfriends/wives/friends, please make sure a band member is in the picture with them.
Do NOT post pictures of Bam, Jonna, Manna, etc., without a member of HIM too.
They will be deleted—
this is a HIM page.
3.
Please try to NOT repost pictures so often.
It's not fun to have to look at the same pics over and over again. Take a look back to see if the pic has been posted already.
Reposted pictures will be deleted.
This does not mean that a pic will never be reposted, but it does mean that we don't want them reposted on the same day.
Thank you---♥Jessica1814, Fairyvamp69 ♥, ♥Kathy1224
,
---
blog
Marés Vivas Festival is asking Fans, Which band they want to see at the Marés Vivas Festival Line Up With Smashing Pumpkins and Bush on…
vid
Sleepwalking Past Hope This is for Sandra...enjoy Burton! ;)
as the day gets closer for the new compiliation cd from Finnish band HIM titled XX Two Decades Of Love Metal is released, a pre-order…
link
Ville describes "Tears On Tape": "For me the album´s cocept is the Bermuda Triangle. There is Smashing Pumpkins, Black Sabbath and Roy Orbison. Those are the…
link
Community! "we want to spread our love for HIM, expand our HIM family and help HIM get more promotion! ♥"