2017 New Years Eve Breakdown: Countdown NYE, SnowGlobe & Minimal Effort
Here is my breakdown for my top 3 fav New Years Eve events… the perfect way to end 2017 and start the new year off with a BANG!
Countdown NYE
Countdown is an incredible way to break in the new year with your rave fam and celebrate a fresh start with good people. The lineup this year included over 50 amazing performers including Diplo, Deadmau5, Datsik, Galantis, Yellow Claw and tons more, leaving the choice between who to see a bit of a tough one. Running from 4pm til 2am on 30th and 31st, Countdown included 3 decked out stages, a vendor village, food trucks, and a zen zone, giving you and your friends perfect spots to dance the night away and take a breather when you need it. Not to mention that the grounds are decorated with a plethora of celestial looking led sculptures and and fixtures, which not only make for great meeting places but enhance the experience and give your photos a killer backdrop. One of the things I really appreciated was that the lines moved fast and the crew was prepared which really moves mountains at a rave. If that wasn't enough, the stage design, stunning light displays, confetti canons and constant electric energy of Countdown as a whole, brought this event to the top of the charts for me.
SnowGlobe
SnowGlobe festival will take you into new year in style and give you the winter wonderland you've always dreamed of. Jam packed with amazing hip hop and EDM, this festival is a perfect fit for LA ravers who are looking for a little bit of adventure but something that's not crazy far from home. Located in beautiful south Lake Tahoe California, SnowGlobe festival has both outdoor and tented stages and spans over 3 days (29th-31st). One special feature to SnowGlobe other then the fact that you can dance and potentially have snowball fights, is that there is an additional late night extension that is held at separate venues to keep the party going all through the night. With the stunning wildlife and a wicked opportunity to get decked out in fun faux fur, ridiculous onesies, and really any other cosy, fun, piece of clothing you can find, SnowGlobe will leave you wishing the weekend would never end. SnowGlobe is known for pulling some of the best artists and this years lineup didn't fall short, showcasing headliners Travis Scott, Zedd, Porter Robertson (DJ set), Dillon Francis. Theres about a million other reasons that makes this festival one of the best but all I can say is that you wont know until you pack your bags and take the leap.
Minimal Effort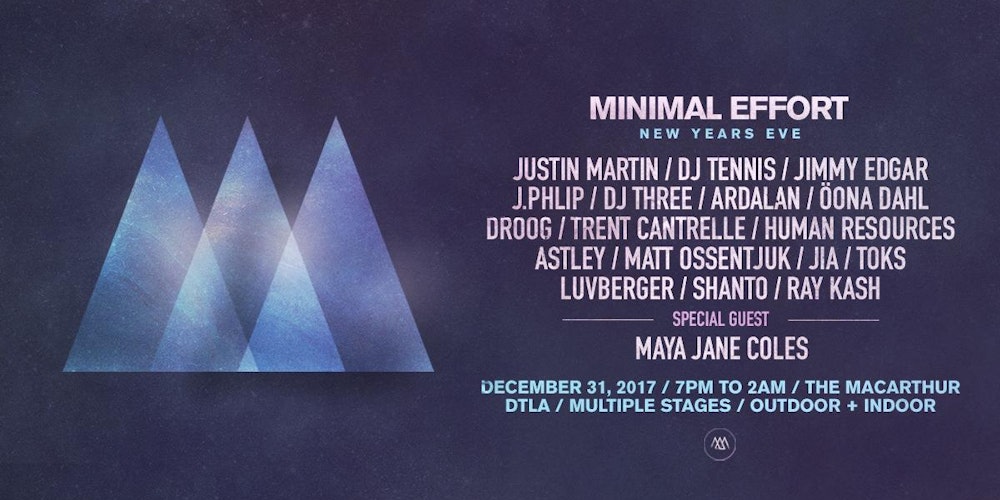 Minimal Effort Fest is close to home but still packs a good punch. Held indoors and outdoors this festival may be a bit smaller then the other two I mentioned but still holds it's own. Minimal Effort is held biannually on New Years Eve and Halloween night and is located at the MacArthur event center in LosAngeles. The fest included around 11 artists with a few special guests running from 7pm to 2am. Minimal Effort prides itself on producing a lineup of strong, up and coming artists that support LA's underground electronic music scene. The nature of the event creates a more intimate atmosphere that is slightly club-like but with the range of performers of a festival, making Minimal Effort pretty unique. Overall the experience is definitely geared to a smaller, more sophisticated crowd but is definitely one to look out for in the future.