(source)
My mother and her boyfriend are in town for the first time since I've moved here and I've been trying to show them a good time:) On Saturday we had some epic sushi for lunch, then did a little wacko run which is one of my favorite places in LA. It's like an knickknack/art/bookstore in Silverlake. She noticed this one Mark Ryden book on the shelf and after looking at it for a little bit she ran to me and said:"this looks like your music videos." It suddenly made sense to her:) Mark Ryden is, in fact, one of my very favorite artists. Pure Brilliance.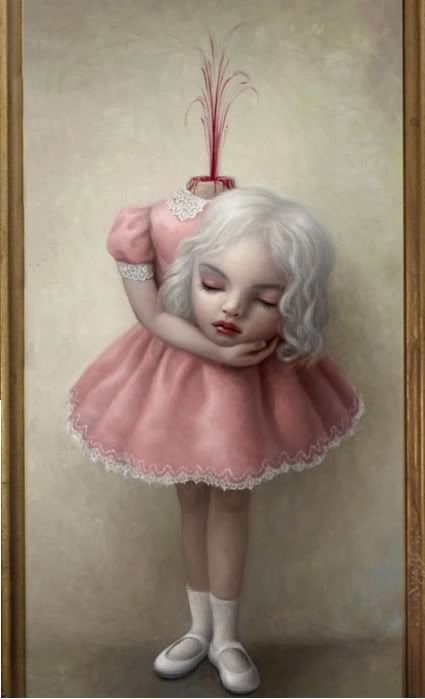 And in case u were wondering where Lady Gaga got the meat dress idea from – wonder no more. This is Marks "incarnation"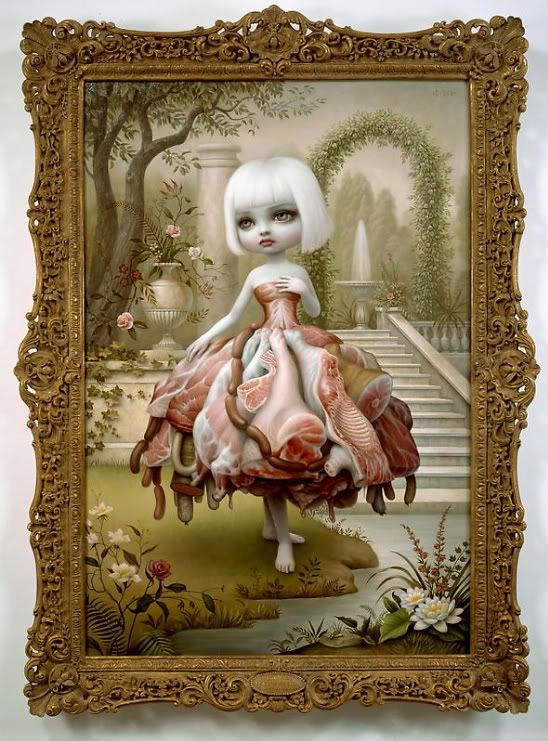 I wanted to show them a good time with a bit of something they hadn't experienced before so i thought I'd take them to a couple of visually stimulating places:)
The first place we went to was the Chubby Bunny event in Japan LA on Melrose. My mom still lives in a very small place and for them seeing all these girls in bunny outfits, they couldn't quite wrap their heads around it. She could relate to all the Hello Kitty stuff though since she "had a Hello Kitty t-shirt in 4th grade":) Damn, I wish she would have kept it, would be such an epic vintage piece to own.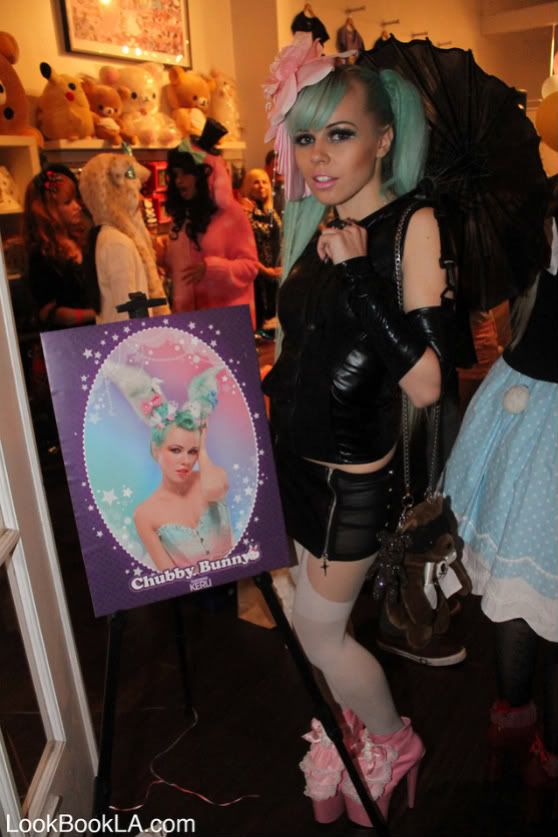 I am wearing: Head Piece: Chubby Bunny Parasol: Chinatown LA Blindfolded Teddy Bear Bag: Handmade by me Skirt and Jacket: Lip Service Tights: Ebay Shoes: Pleaser Shoe Jewelry (Shewelry:): Handmade by me
Here are some more pics from the event(some from my phone, some from //lookbookla.smugmug.com):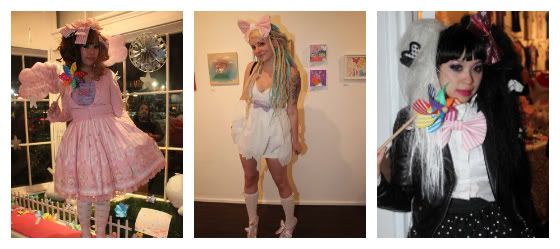 Here are the very talented chicks responsible for Chubby Bunny: Michelle who's the designer and Ninja who helped out with the shoot.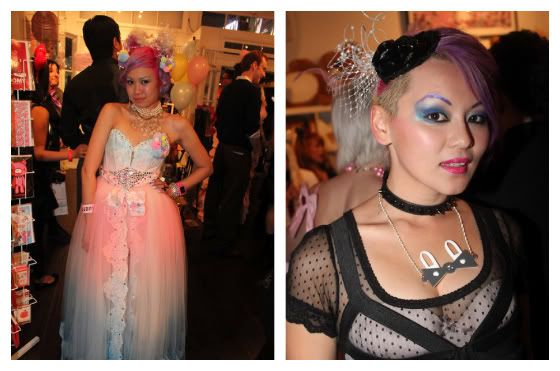 More epic people: The wonderful and very talented Queen Frostine who made me the sickest BubbleGoth gas mask I'm gonna rock during my next photoshoot and Shrinkle from Sugarpill <3
Here's some of me and my bestie and keyboard player Vespertine: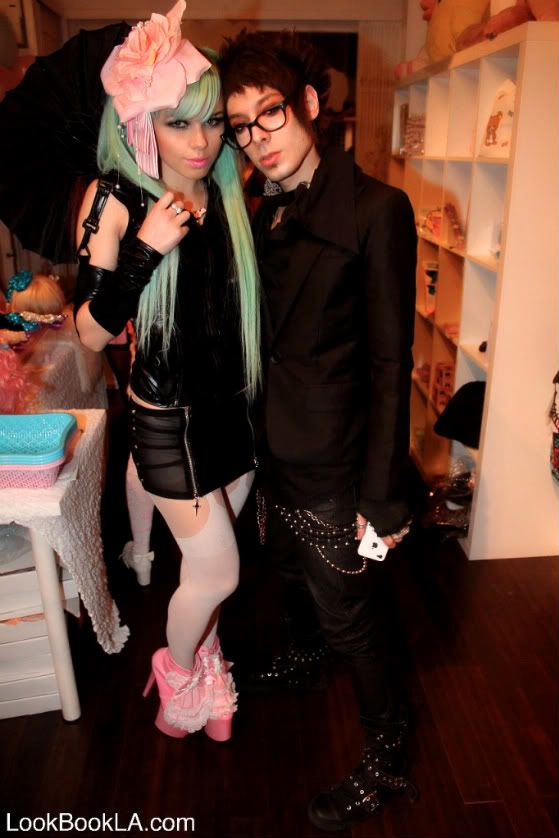 And my Dear Mom and her boyfriend. My mom is so rad, she is also rockin one of the chubby bunny headpieces!!:)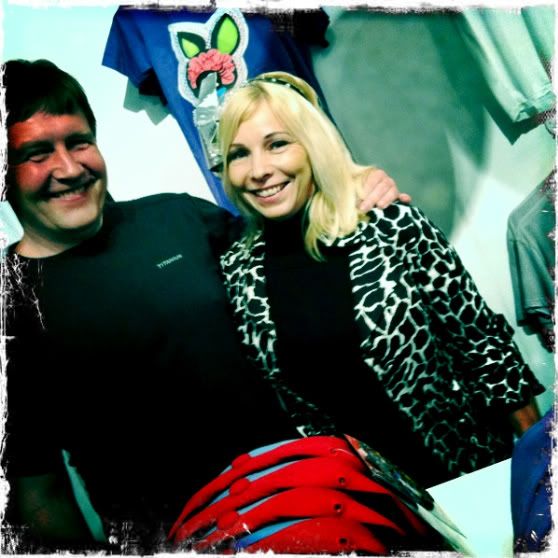 After we left to go to my favorite goth club, we noticed a sex shop on the way with this model having some dildo hair action going on. It looks really cool. Like glass dreads.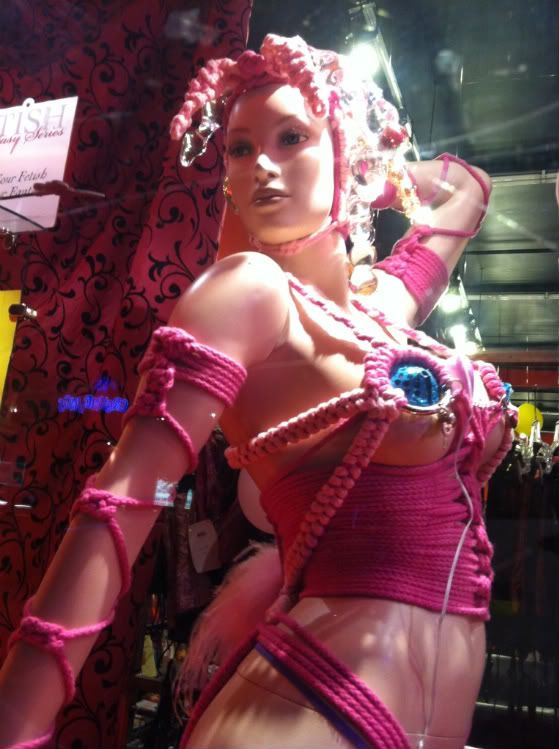 To finish off the night, I took my mom and her boyfriend plus my band to Bar Sinister. You can get whipped/watch people get whipped on the 2nd floor and to me, the whole bondage thing has always been a source of inspiration artistically so I wanted my mom to see where I'm coming from. We hung out and danced and saw some people getting whipped + saw this one incredible pole dancer + drank some absinthe to make it extra goth. lol. I can't believe my parents were so cool with all this. They were just so open and impressed by how artistic the whole scene is. So rad!
Here's one more pic from Sinister of me and my band: From the left – Me, Vespertine and ChinaDoll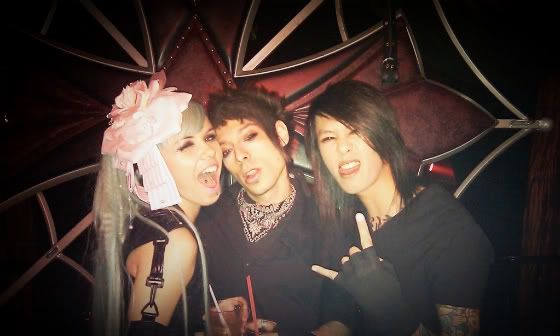 And one more messed up Hello Kitty one from earlier. How BubbleGoth!
Love u, MoonChildren.
I.L.U
k