well here i am.. after a ten and a half hour flight.. i am finally in london.. i got here yesterday afternoon.. they had juno on the flight so i watched it a few times and then some family guy episodes.. i also played solitaire.. the people next to me couldnt fall asleep either so we drank bloody marys and wine.. once i landed a big white limo came with champagne in it.. i was so tired from not sleeping that i just slept the whole time in the car.. last night i went to this venue in london and watched the gallows play..
today i slept in till 4p.m. this time difference is killing me. once i was up we had veggie pizza with potatoes and salad.. after dinner we went to see the new will ferrel movie where he is a basket ball player.. they had baskin robins in the theatre so we got a blueberry lemon sundae.. lee hated it, but i though it was pretty good.. right now i am sitting in bed watching the movie the wiz.. wishing i could fall asleep.. tomorrow morning i am going to a soccer game and then topshop.. should be a fun day!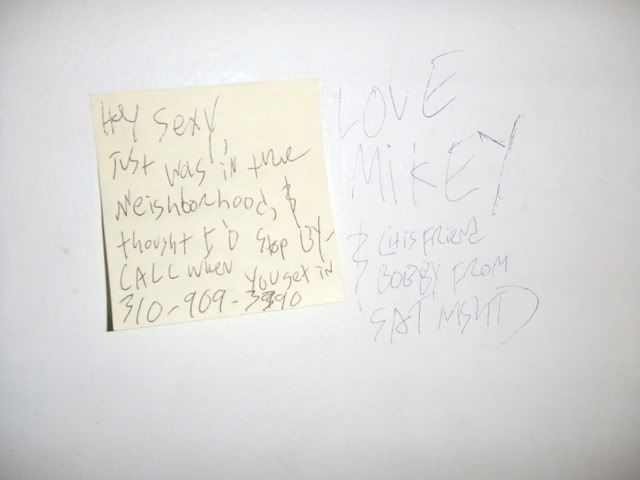 this is what happens when peolpe stop by and you're not home.. so they try to write you a letter on a post it but run out of room.. typical..
i already miss amy. she is back home in nebraska but should be coming back to los angeles soon. all that matters is Michael's stories about donut time, 430 am stop ins, madaline the cartoon and going to diners in the middle of the night.. thats what my last week has turned into.. before i left jeffree and i did our favorite stop at urth.. i love all the food there.. i am fishing my interview for the japanese magazine and i am getting my press kit together for them as well.. hopefully all goes well and i will be able to go to japan for a few weeks of work.. big meetings when i get home..
i think i am addicted to rainbow sorbet and pandas.
is anyone going to south by south west?
what is your favorite flavor of ice cream and your favorite toppings?
and what is your favorite desert?
xxoo